Superior Quality Carports for Vehicle Protection
A carport is a valuable addition to any home and will protect your vehicles from the worst of the elements but also protecting the vehicle underneath from the sun's rays which can, over time, damage the paintwork and interior fabrics too.
Due to their simple and understated style, our carports can suit any home environment whether it's a traditional or modern style of building.
If a more decorative carport is required to fit in with a traditional type of building, we have a stylish add-on with our Victorian Upgrade. This can be added to create an attractive ornate finish.
All our carports can be coloured to any RAL or BS colour to match or fit in perfectly with any domestic setting.
Our Lifestyle Carports are superior to Cantilever Kit Style Carports, as our top quality post mounted aluminium metal frames are much more robust and longer lasting. We manufacture, supply & install so the perfect choice if you're looking for protection for your car, see below…
Protect your car or vehicles from the unpredictable weather including unexpected rain, sleet or snow and protection from the sun all year round with one of our versatile and stylish canopy carports in Lancashire or in nearby towns and villages across the North West.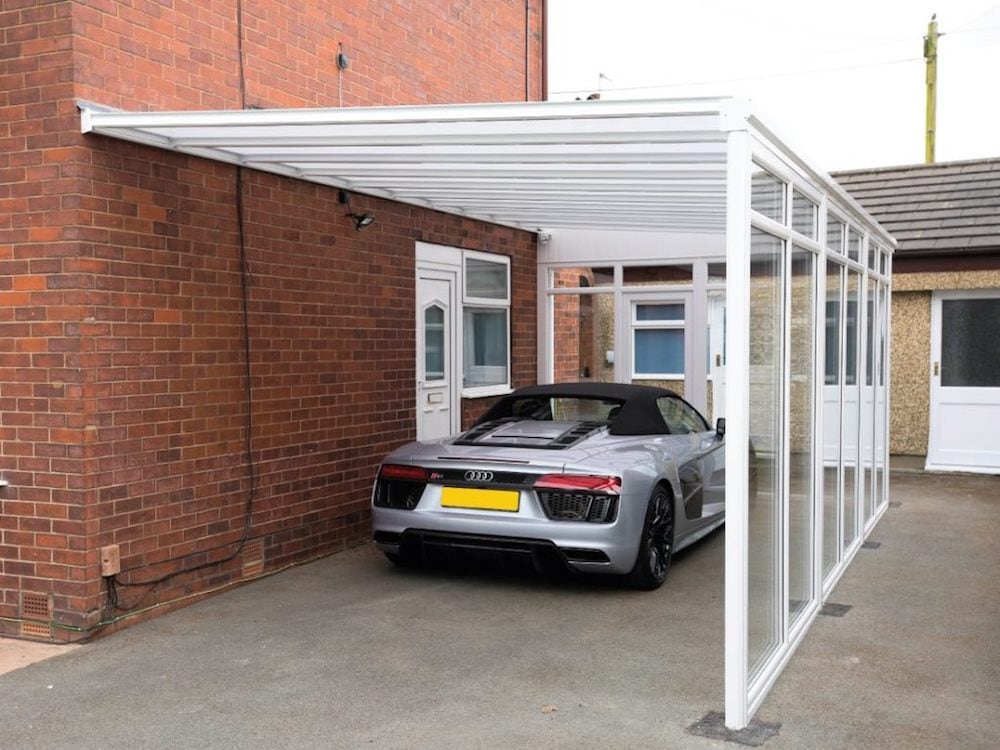 Full, Durable Aluminium: For Strength & Peace of Mind

Stainless Steel Fixings – Fixings made from 316 marine grade aluminium for protection against corrosion

35mm Structured Polycarbonate Roof Panels – 35mm vandal & shatter resistant

Integral Guttering – Hidden within the canopy frame & posts for a clean, minimal appearance

High UV Protection – The roof panels offer in excess of 98% UV protection, keeping you protected from the sun and also reduces the risk of your vehicle paintwork fading due to sun exposure

White or Anthracite Grey as Standard:  The aluminium frame can be powder coated to any RAL or BS colour to enable us to match your current colour scheme
Unlimited Length and up to 6m Projection – Offering a large size so you can create your desired length

Excellent Fire Rating – The polycarbonate roof panels benefit from excellent fire performance, meeting BS476 part 7, class 1 and EN 13501 B-S1, d0 fire ratings.

10 Year Guarantee: 25 Yr Life Expectancy on All Carports

Systems – Our Carports are manufactured using the Lifestyle System, as shown in our brochure.

No More Scraping Ice: Keep your car warmer in winter

Less Maintenance: So your car looks cleaner for longer
It's great to be able to work on our vehicles without getting wet in the rain or too hot during the sunnier months. Thanks so much for a great product and such a professional job
As you can see in our gallery, there are lots of options available including Lighting, Heating, Colours and Roof Options and just like our Glass Garden Room, you can also have Glass Sides on your Carport, creating an enclosed space for washing you car or working on your car.
Lifestyle Carports FAQ
Yes, we are suppliers of metal frame carports, covering the Lancashire area.
The metal used on our carport frames is in fact, Aluminium, which does not rust, which is also powder coated as standard in white, or anthracite grey.
We only provide Aluminium metal frames for our carports, because they are much more robust and longer lasting, than other types of metal frame carports, such as steel, which is likely to erode, especially if it has not been coated properly.
Aluminium metal framed carports also allow us to keep the cost down. Plus an added benefit to the environment is that aluminium metal frame carports can be recycled at the end of their life.
All in all, choosing an aluminium metal frame carport supplier in Lancashire or in your area if you are not local to the Lancashire area is our recommendation and in our honest opinion, the best option for you.
For more information about our superior quality lifestyle carports, for a free brochure, quotation or survey, 

contact us

today